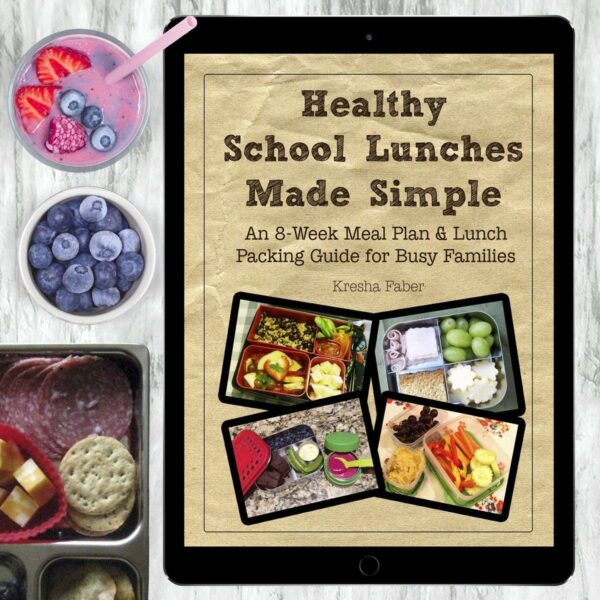 Healthy School Lunches Made Simple
Lunchtime can be stressful – whether you're at home or school. Our 8-week lunch plan takes the stress out of planning, provides a *healthy* lunch each day, and you get to prep when it's convenient for *you.*
Lunchtime can be stressful – whether you're at home or school. Our 8-week lunch plan takes the stress out of planning, provides a *healthy* lunch each day, and you get to prep when it's convenient for *you.*
Making lunches for school day after day can get tiring – and stressful, whether you're at home or sending your kids off to school. This 8-week school lunch meal plan and lunch packing guide take the stress out of it and makes sure your child goes off to school each morning with a nourishing lunch in tow.
And since the meal plan covers a full eight weeks – with extra recipes for field trips and special days – you only need to use it 4-5 times to cover the entire YEAR of lunches, with nary a cry of "Didn't we just have this?"
What's Inside

8 weeks of healthy, quick, kid-friendly menus

Two bonus menus for field trips

At-a-glance planning calendars

Printables to help your kids pack their own lunches

Strategies and printables for when the plan doesn't go as planned

Helpful tips for stress-free lunch packing success

Ingredient checklists

Tips for helping picky eaters actually eat their healthy school lunch

Space to make notes about which recipes your kids especially like and dislike

A complete menu plan so you don't have to think about what to pack each day – unless you want to!

Ink-friendly recipe pages
A Few FAQ's
Is there a print copy available?
The copy you are purchasing is DIGITAL and there is no paperback copy available at this time.
However, you are more than welcome to print out a copy or two for yourself – either at home or a print shop – so you have a hard-copy on hand.
(You aren't allowed to print out multiple copies, however, either to sell or give away. Just so you know.)
I am allergic to peanuts/tree nuts/strawberries/eggs/soy and eat kosher/vegetarian/grain-free/dairy-free. Can I still use this book?
Like all recipes at NourishingJoy.com, the one criteria for our recipes is 100% real food and no industrially processed anything.
That said, many of the recipes DO fit the above criteria, but they're not created with that in mind, so not EVERY recipe will be grain-free or kosher or whatever your specific need may be.
Again, we aim to provide real food recipes that make it easy for families to not rely on boxed, canned, and processed ingredients, but to use fresh, easy-to-find ingredients.
I don't have kids, but I'd still like to use the e-book. Will it work for me?
Yes, definitely! This book is merely simple lunches to go, and even though it's designed with kids' school lunches in mind, it's definitely usable by anyone anywhere.
Whether you'll use it for kids going to school, a day hike, or packing a lunch for work, this book can still be your go-to toolkit.
Can homeschoolers, older students, and adults use this book?
Absolutely! Anyone who packs a portable lunch or wants to have a ready-to-eat meal at hand can use this book.
This is a DIGITAL product. It will be delivered as a PDF via email, which can be downloaded and printed on either a home printer or at a print shop. Nothing will be shipped to you.